On August 27 and 28, 2022, the 8th Tokyo International Conference on African Development (TICAD 8) was held in Tunis, the capital of Tunisia. As the conference was held during the ongoing COVID-19 situation, we would like to describe the local conditions, including a comparison with the previous conference (TICAD7), which our participants experienced firsthand.
About TICAD 8 
TICAD 8 is an abbreviation of Tokyo International Conference on African Development and the word "Tokyo" at the beginning of the name indicates it is an initiative of the Japanese government, but it is held jointly with the United Nations, the United Nations Development Programme (UNDP), the World Bank, and the African Union Commission (AUC).
The first conference was held in 1993 and had been held every 5 years in Japan, but since TICAD 6 in 2016, the conference has been held alternately in Japan and Africa every 3 years. (TICAD 6: Nairobi, Kenya TICAD 7: Yokohama, Japan)
At TICAD 8, the three plenary sessions of "Economy", "Society", and "Peace and Stability", the Business Forum, and the 4th Hideo Noguchi Africa Prize Award Ceremony were held. The plenary sessions included a high-level policy dialogue between African Heads of State and Government (20 Heads of State and Government from 48 African countries) and development partners, with Prime Minister Kishida participating online. The Japanese Foreign Minister (Special Envoy of the Prime Minister) Mr. Hayashi joined in person with H.E. Mr. Kais SAIED, President of the Republic of Tunisia and H.E. Mr. Macky SALL, President of the Republic of Senegal. The following TICAD 8 Tunis Declaration was issued at the closing ceremony as below. Prime Minister Kishida's commitment to "inject a total of $30 billion in public and private funds over the next three years" will be a major boost for African businesses.
Tunisia's positive response
I am  Satoshi Katada from Chief Country Representative of Turkey. I visited Tunis 2 weeks before the event to prepare for the exhibition. More than 50 billboards were put up in the city, indicating Tunisia's enthusiasm for TICAD 8. Also, at the time of the event, the license plates of the major government vehicles were changed to special ones for TICAD 8, and the buses used to transport officials were specially wrapped. Even immigration, which at times can be inefficient, set up a special lane for TICAD 8 participants. (See pictures below.) We would like to express our gratitude to the Government of Tunisia for their response and organization of the event considering we did not know in what form the event would be held until just before the start.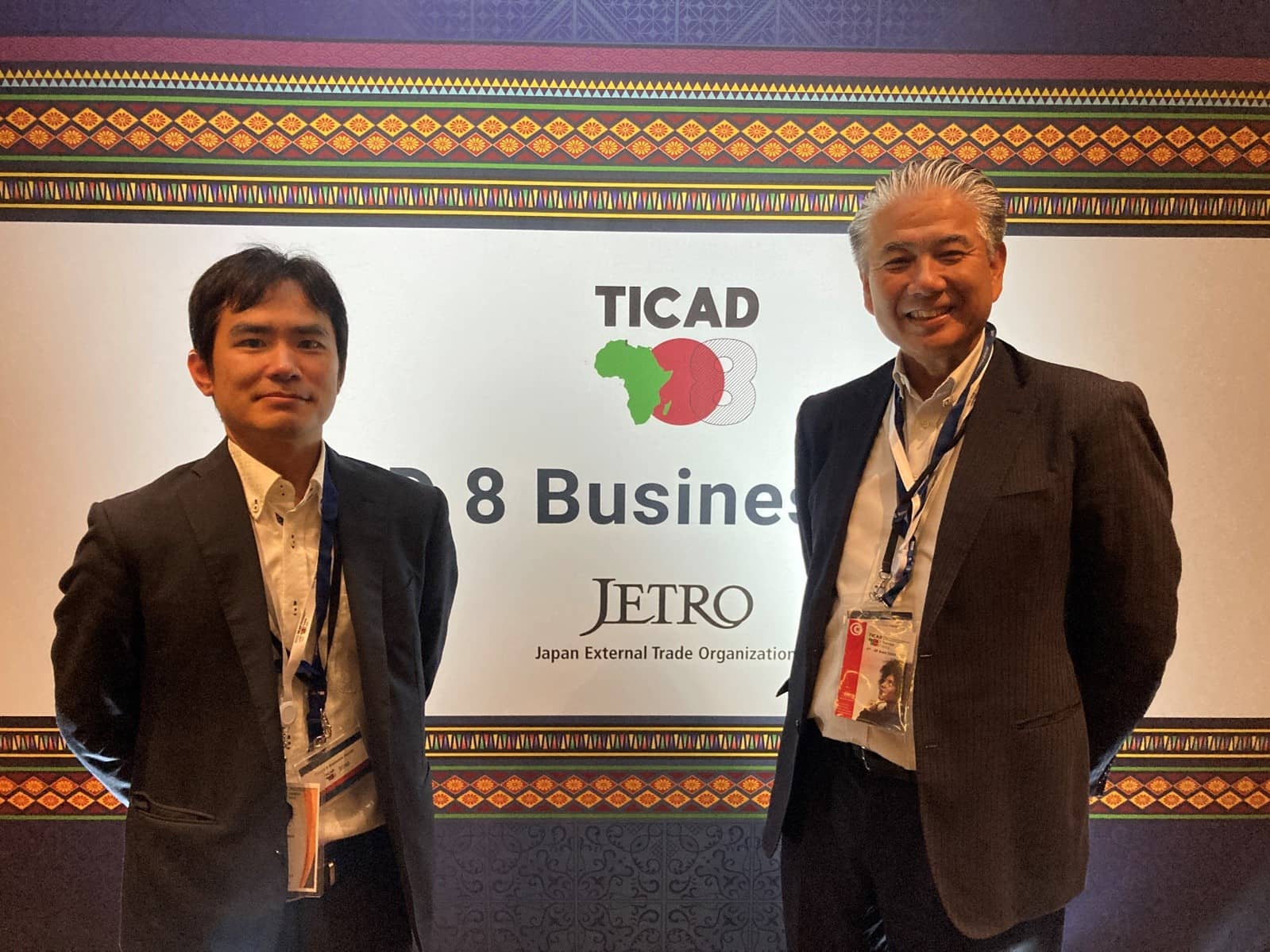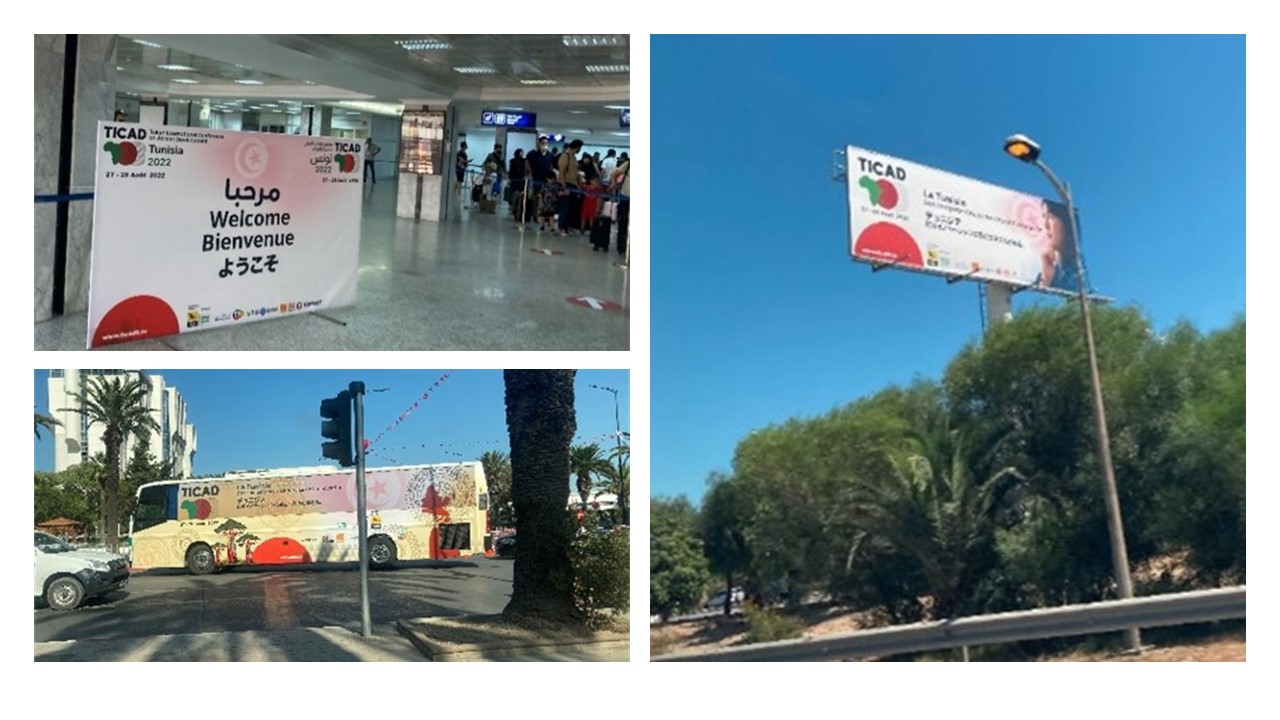 Click here for the TICAD 8 Tunis Declaration https://www.mofa.go.jp/files/100387012.pdf
"Show the MOL Flag"
A business forum was held over 2 days with the participation of 53 Japanese companies. While many of participants were from trading companies, manufacturers, construction companies, and financial institutions who have had long-standing operations in Africa, venture capital firms investing in Africa and start-up companies promoting African businesses with new technologies and business models also participated.

34 African companies participated, including telecommunication companies, power companies and financial institutions, as well as startups. In addition, African economic ministers, development finance institutions, and Japanese public institutions participated in discussions about strengthening business relations between Japan and Africa. 92 MOUs signed by Japanese companies with African and other countries were presented.

A total of seven global members from the MOL Group MOL (Europe Africa) Ltd., MOL Turkey, MOL Mauritius, and MOL Shipping (Kenya) participated. In order to increase our presence and network in African businesses, under the theme of "Show the MOL flag," the group actively participated in exhibitions organized by the Tunisian Japanese Chamber of Commerce and Industry (TJCCI) and co-organized a seminar to introduce our group activities, followed by a reception.

About 50 people showed up at our company booth at the exhibition event hosted by TJCCI on Friday, August 26. During the exhibition, we received many inquiries related to logistics, and we once again felt a strong logistics demand and business potential in Africa. We were also interviewed by TV5 Monde, an international media outlet alongside the BBC and CNN, and by the Tunisian National Broadcasting Company.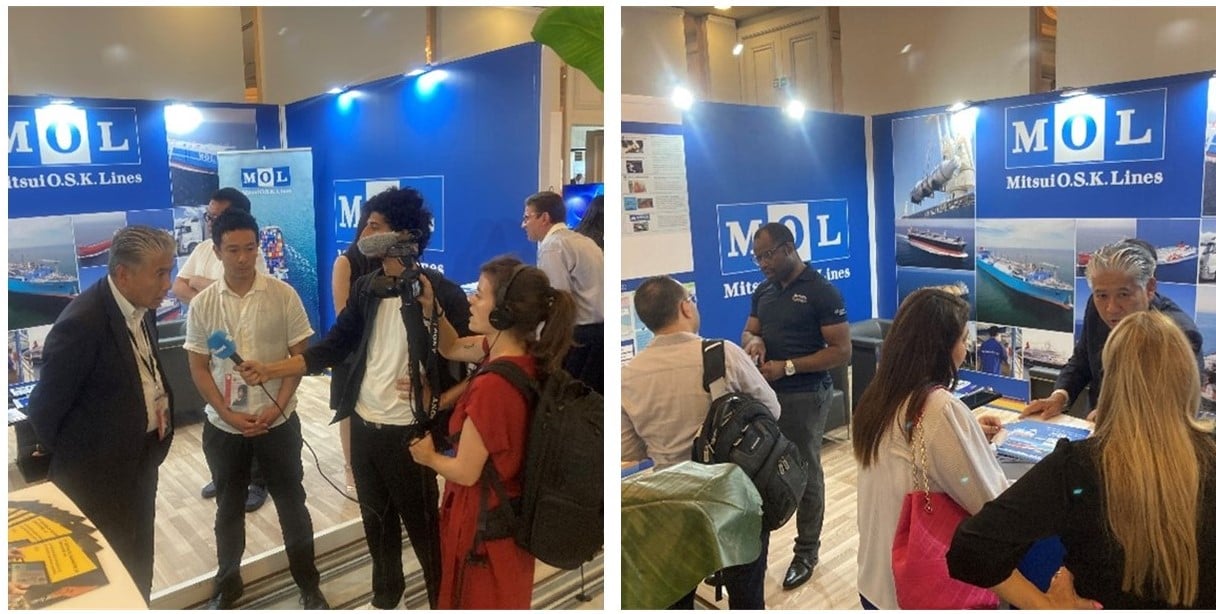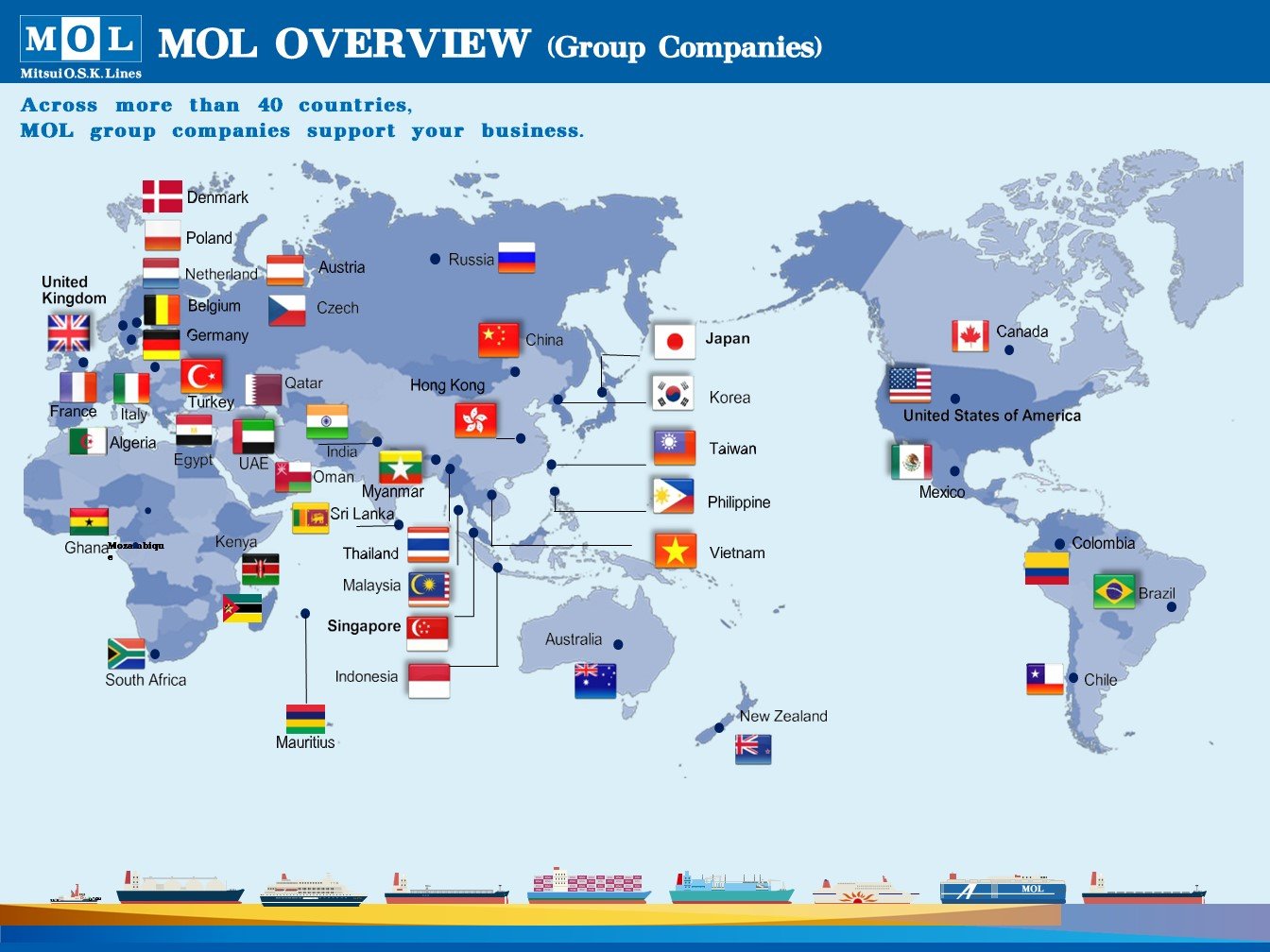 Advantages of holding small-scale events due to COVID-19
Due to the impact of COVID-19, it was not decided whether to hold the event in a face-to-face setting or online until just before the event, and the Japanese government seemed to be struggling to cope with the situation. As a result, the event was held with a mixture of online and offline attendees and the Business Forum was limited to 2 participants from each company, so the number of participants was only about 300, comprising of about 100 from Japanese companies (including about 10 from start-ups), about 100 from African companies (including about 30 from Tunisia), African economic ministers, development financial institutions, and Japanese public institutions. This was a very small number compared to the last TICAD 7 held in Yokohama, which had around 10,000 participants.
However, the small number of participants at TICAD 8 did have the advantage of enabling the people there to more freely meet high-level government officials and talk with other participants at leisure.
From our conversations with people from various countries, we felt that the degree to which Japanese companies are making inroads varies greatly from country to country. Senior government officials from countries where few Japanese companies have made inroads into the local market expressed a strong desire to see more Japanese companies expand their presence. Also, we got the impression that there were many Africans who held a good impression of Japanese products and Japanese people, although it was difficult to surmise how universal this view was as exposure to Japanese products and people differed from country to country.
Through my participation in TICAD 8, we were able to meet and network with local companies present in our target areas, companies operating in countries where we are not yet active, and with high-level African government officials. This will stand us in good stead in our future business activities in Africa.

【Masks situation】
Local awareness of COVID-19 prevention measures was very different to that of Japan, and the number of people wearing masks was quite limited. In fact the local media featured photos of Japanese groups all wearing masks and reported how discomforting it must be to wear them.

【Language】
The host country, Tunisia in North Africa is bordered by Algeria and Libya to the west and east and the Mediterranean Sea to the north. Arabic is the official language, but French is widely spoken among the citizens. English is not commonly spoken, and once again I felt that having a grasp of French is important for activities in many African countries. This time, three of the seven participants from our company were French speakers so we had no problems arranging our accommodation and generally getting around.
A Social Infrastructure Corporate Group with a focus on the shipping industry and ship transporters
About 100 people attended a seminar introducing our group's activities, and more than 200 people attended the reception afterwards. Some seminar participants reported that they used to think of MOL as only a shipping company and were unaware the company had a variety of new initiatives in areas other than shipping, such as decarbonization. This confirmed to us once again the importance of providing new initiatives and making them widely known.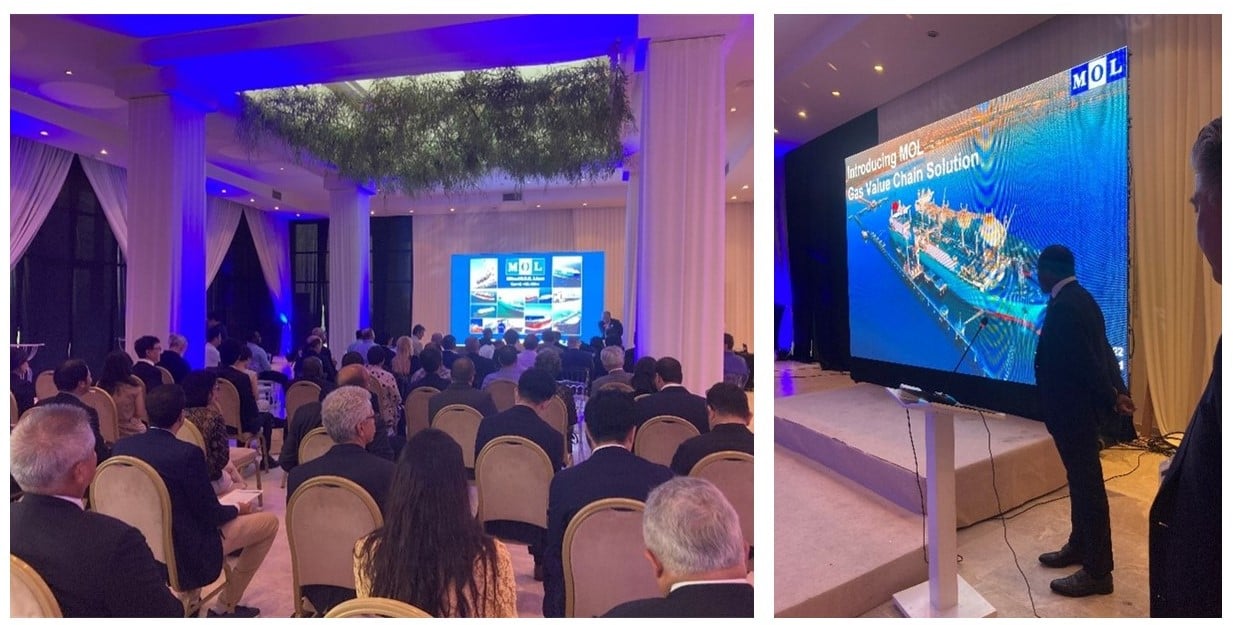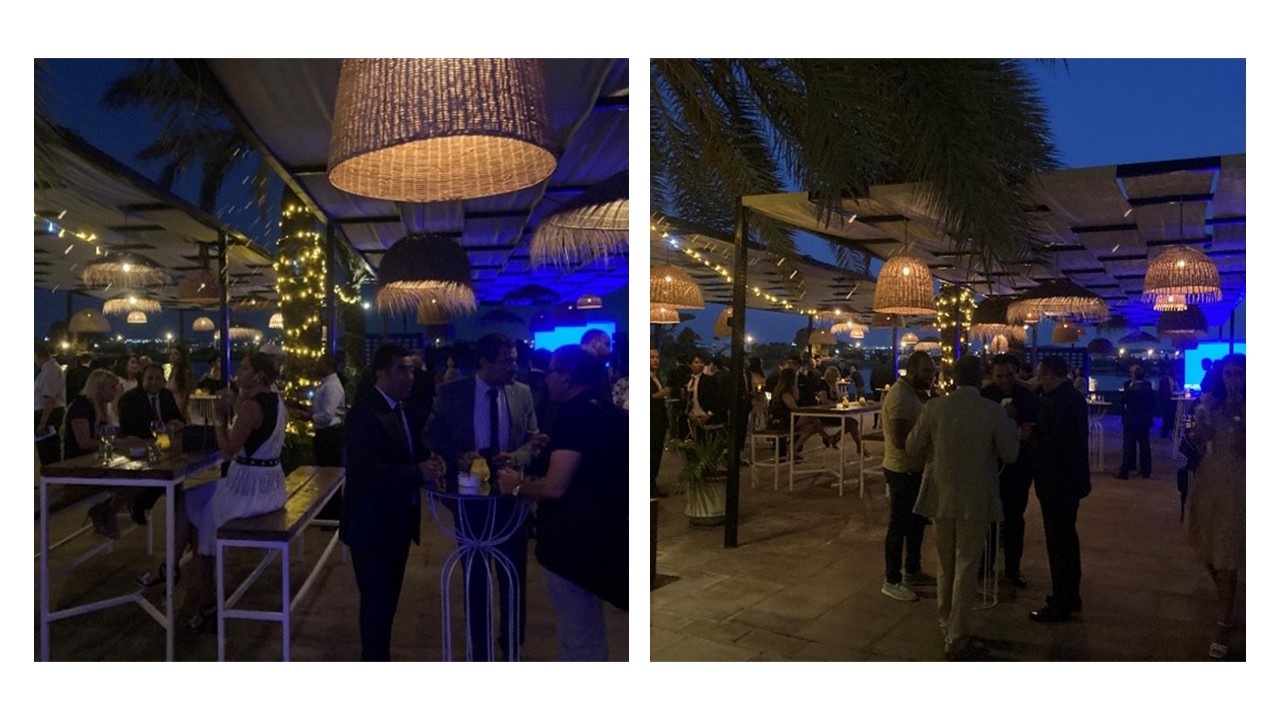 In Africa the median age is just under 20 years (for Japan it is 48.6!), and its population is expected to rise from 1.3 billion today to 2.5 billion by 2050, with one in every 4 people on Earth being African. The proportion of working-age population is high, and consumer demand is steadily increasing. It is therefore essential for our company to expand its business presence in what can be regarded as the "last frontier" if our company is to continue growing globally.
We participated for the first time at TICAD 7 in Yokohama in 2019. At that time, there were no country representatives in Africa, and we held an exhibition and seminar focused on introducingLNG-to-Powership project, not alone but jointly with Karadeniz of Turkey. Compared to the busy booths of other Japanese companies who exhibited as a company, the number of visitors we had was not that large. Even so, we were able to feel the importance of TICAD, as we were able to conclude MOUs with two Turkish companies participating in TICAD in relation to Africa, and we came away with a strong determination to participate in TICAD 8 as MOL next time. Since then, our African bases have increased to three, and as mentioned above, we were able to participate as MOL and host the event. We are gradually stepping up our activities, but I would like to work together with my colleagues and take on the many challenges of doing business in Africa to position ourselves as a leading company in the continent of Africa in three years time at TICAD9.
Our group, as a partner with African countries, hope we can grow together and help realize the ultimate goal of a strong and sustainable Africa.

Finally, I would like to express my gratitude to the people of Tunisia.
If TICAD had not taken place in Tunisia, my visit would have come much later. However, during my first visit to Tunis in February this year in preparation for TICAD, I visited the Embassy of Japan in Tunisia and had a meeting with Former Ambassador Shimizu and met many people who helped us with our arrangements. We are particularly grateful to The Tunisian-Japanese Chamber of Commerce & Industry (TJCCI), including Ms. Komuro, for their support, which made it possible for us, who have no bases in Tunisia, to exhibit and hold a large dinner there.
We are also very grateful to H.E. Mr. Mohamed ELLOUMI, Ambassador Extraordinary and Plenipotentiary of the Republic of Tunisia to Japan. When I returned to Japan just before TICAD, despite my last-minute appointment, he took the time for us to hear our attendance on the exhibition. During the meeting, we were able to exchange various views on logistics and shipping matters. With this connection, we were invited to a cocktail party hosted by the Tunisian government and in which the Japanese Foreign Minister Hayashi also participated. At the party, Ambassador Elloumi personally introduced Prime Minister Najla Bouden and Economy and Planning Minister Samir Said. We will make efforts to do business in Tunisia in the future but would like to take this opportunity to thank all of you for a very successful TICAD 8.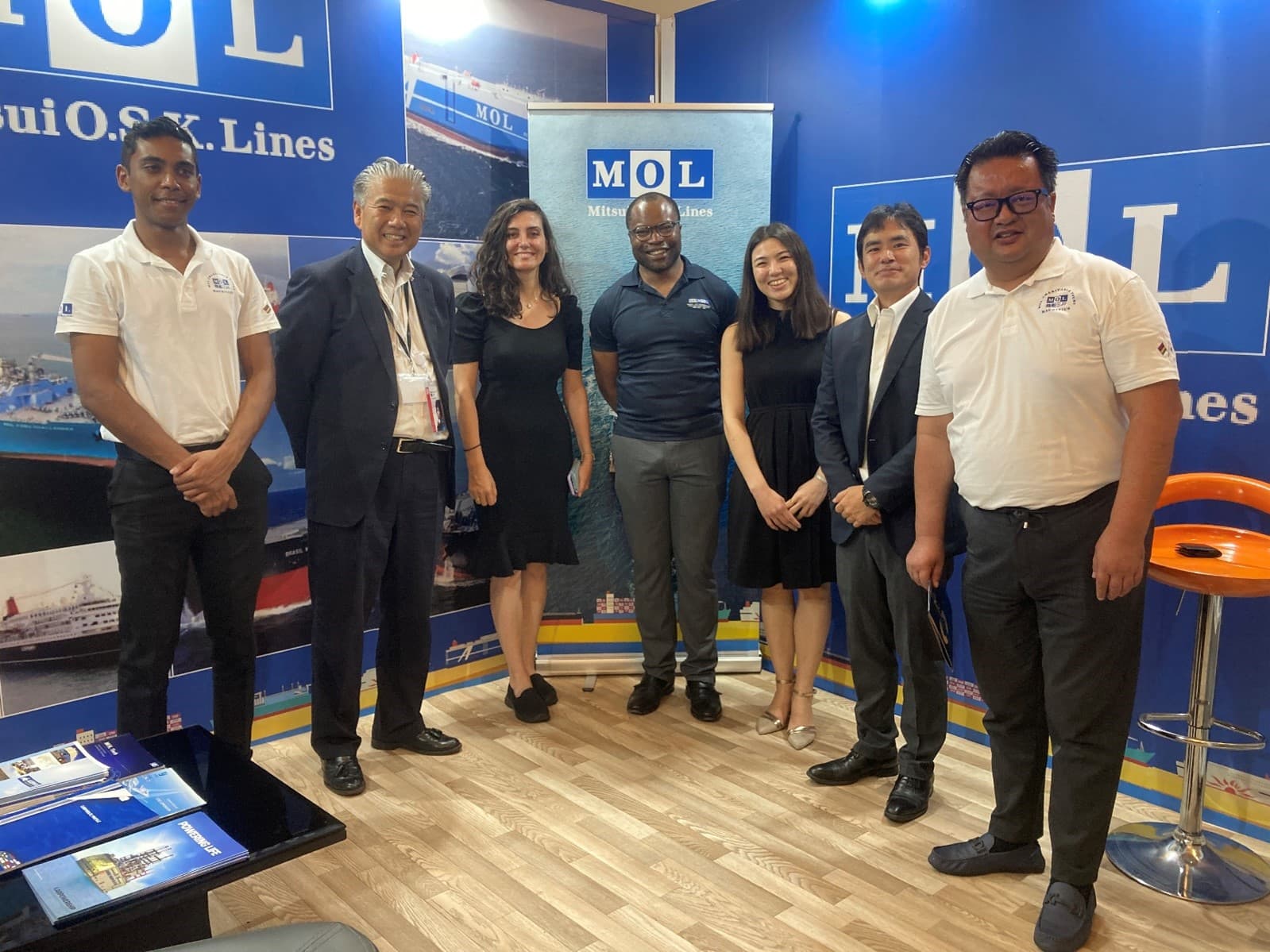 (From left: Mr. Damien Deruisseau (MOL (Mauritius)), Mr. Satoshi Katada (MOL Turkey), Ms. Durna Ozkaya (MOL Turkey), Mr. Edo Ndeke (MOL (Europe Africa)), Ms. Firuze-Emi Yilmaz (MOL Turkey), Mr. Mikio Oyama (MOL Shipping (Kenya)), Mr. Goro Yamashita (MOL (Mauritius))
==
Written by  
Mr. Satoshi Katada/Managing Director, MOL Turkey Denizcilik ve Lojistik Tic. A.Ş.
Chief Country Representative of Turkey

Mr. Goro Yamashita/Managing Director, MOL (Mauritius) Ltd.

Mr. Mikio Oyama/ Managing Director, MOL Shipping (Kenya) Ltd.
Chief Country Representative of Republic of Kenya
==