December 10 2021
TOKYO-Mitsui O.S.K. Lines, Ltd. (MOL; President & CEO: Takeshi Hashimoto; Headquarters: Minato-ku, Tokyo) signed a memorandum of understanding (MoU) with KiliMOL (Representative: Mikio Oyama; Headquarters: Minato-ku, Tokyo (Note 1)) and Double Feather Partners Co., Ltd. (DFP; CEO: Kohei Muto; Headquarters: Shibuya-ku, Tokyo) aimed at creating new businesses in logistics and agricultural fields in African nations.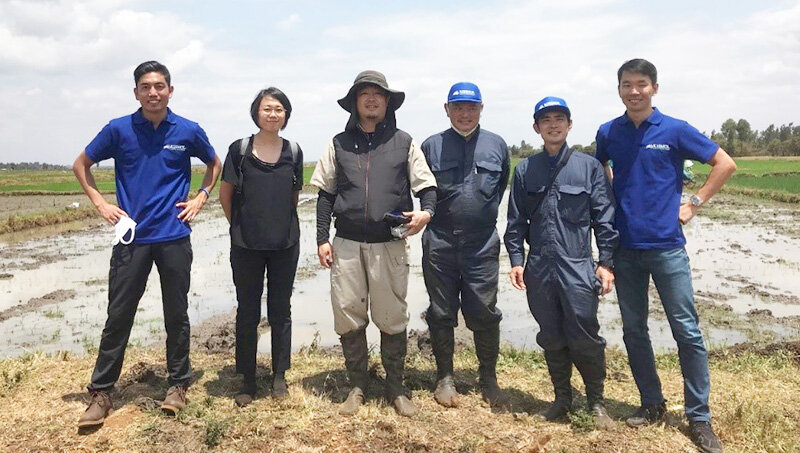 Photo taken in September 2021. The first person from the right is Mr. Muto, and the first person from the left is Mr. Yamauchi (Managing Director).

DFP is a Japan- and Africa-based corporate advisory company that provides local business strategy support services and hands-on support using its robust networks in local ecosystems to increase corporate value. In addition, its functions include venture investment in startups to address social issues, as well as business accelerator program in Africa. Collaboration with DFP enables not only KiliMOL, but also the entire MOL Group to create new businesses in Africa by building networks with African companies in various fields. MOL positions regional strategy among its key business strategies. The group plans to help establish local food value chains and alleviate poverty problem in Africa by entering fields such as sales of agricultural machinery and new businesses in logistics and agriculture.

(Note 1) Please refer to April 27, 2021, news release: MOL to Establish "KiliMOL" a Cross-Border e-Commerce Service to deliver Used Agriculture Machinery to Africa.
---
[About Mitsui O.S.K. Lines, Ltd.]


Founded in 1884, MOL is a multimodal corporate group operating one of the world's largest fleets with over 800 vessels. It develops various social infrastructure businesses, mainly in the ocean shipping industry, which transport diverse commodities such as resources, energy, raw materials, and products, but also in other businesses such as offshore, wind power energy, ferry, coastal ships, tugboats, warehouse and maritime consultant, real estate, and cruise ships, supporting people's lives and industries in the world.

Trade name: Mitsui O.S.K. Lines, Ltd.
Representative: President & CEO Takeshi Hashimoto
Address: 2-1-1 Toranomon, Minato-ku, Tokyo 105-8688
Business: Social infrastructure businesses mainly in the multimodal transport business
Website:

 

https://www.mol.co.jp/en/index.html



[About KiliMOL]


KiliMOL was established on May 25, 2021, as an agricultural machinery sales and export company using a cross-border e-commerce website. The name is derived from kilimo, the Swahili word for "agriculture," and "MOL." Currently, it focuses on exploring demand in Kenya, transporting agricultural machinery by MOL car carriers and its own truck to Kenya. It aims to expand into business domains not limited to the agricultural export business in Africa by strengthening MOL Group network activities in Kenya and other African countries.

Trade name: KiliMOL
Address: 2-1-1 Toranomon, Minato-ku, Tokyo
Representative: Mikio Oyama
Business: Agricultural machinery sales and exports using a cross-border e-commerce website
Website:

 

https://kilimol.net/en



[About Double Feather Partners Co., Ltd.]


DFP is an expert group of business strategies and financial fields, with its strength lying in the pursuit of the design-"strategic support of Japanese companies in Africa" x "capturing business opportunities in African market" x "solving social problems." It has offices in Japan, Kenya, South Africa, Nigeria, and Germany to offer one-stop support requisite for business strategies of companies that challenge for growth of the African market and solutions to social issues in Africa through management consulting, market research, and venture capital investment.

Trade name: Double Feather Partners Co., Ltd.
Representative: CEO Kohei Muto
Address: 2-23-1, Yoyogi, Shibuya-ku, Tokyo 151-0053
Business: management consulting and venture capital investment
Website:

 

https://doublefeather.com/